1976 Kawasaki KZ400 Cafe Racer
I purchased this bike from the 2nd owner who picked it up with 1,675 original miles. The bike had been sitting for years in a basement. When I purchased the bike it was running, but I considered it a project bike. Over a few months, we converted it to the cafe racer you see here. Currently it has just over 2,000 original miles which makes this a new-old, very unique motorcycle.
This bike starts, runs, stops, perfectly. It rides and handles flawlessly. Lightweight, it stops on a dime. Not built to win drag races here, but this is an excellent bike for smaller riders, folks who like lightweight handling, folks looking for a simple commuter bike for around town fun, or fans of the familiar exhaust note that only twin cylinder bikes have.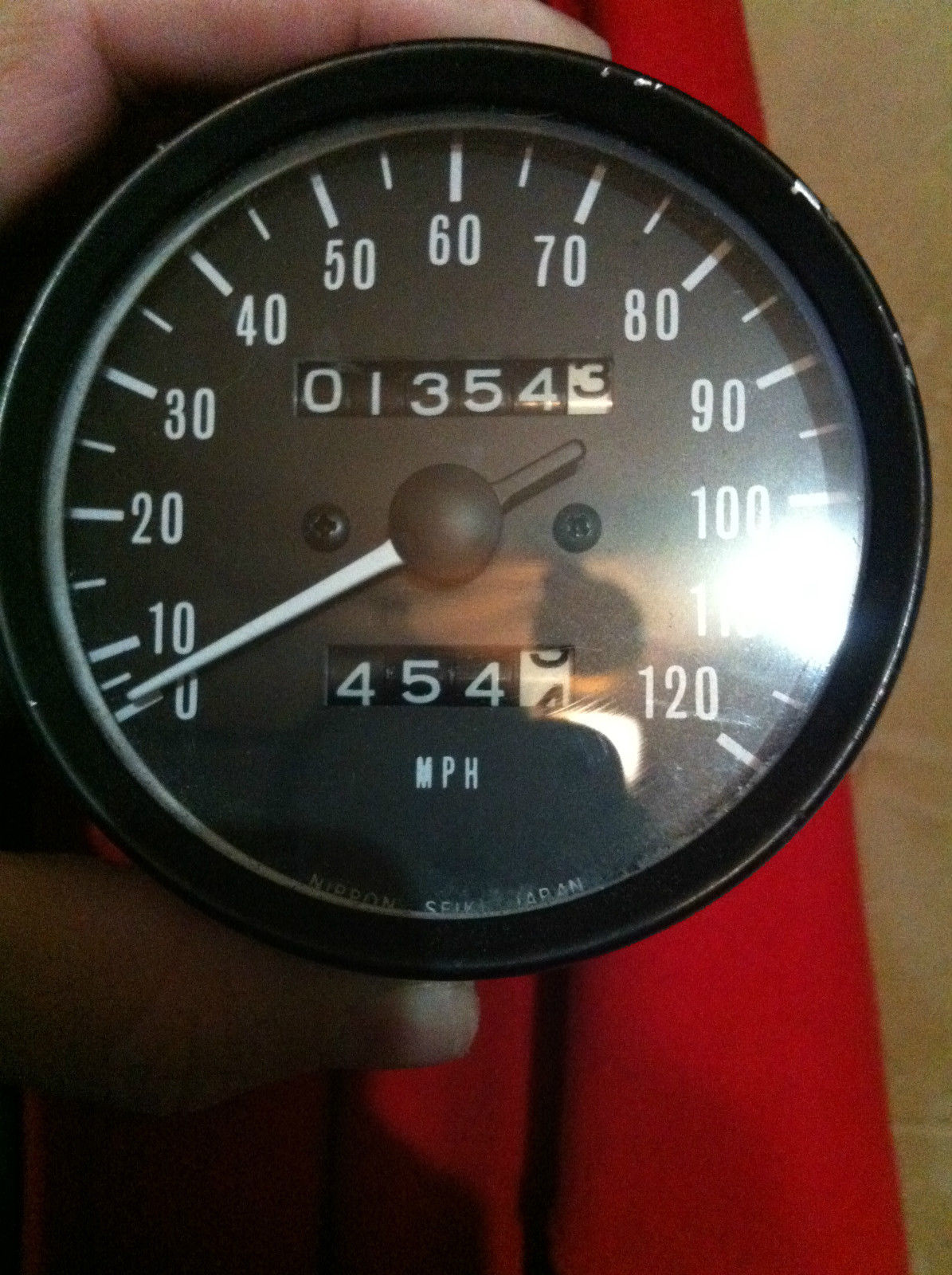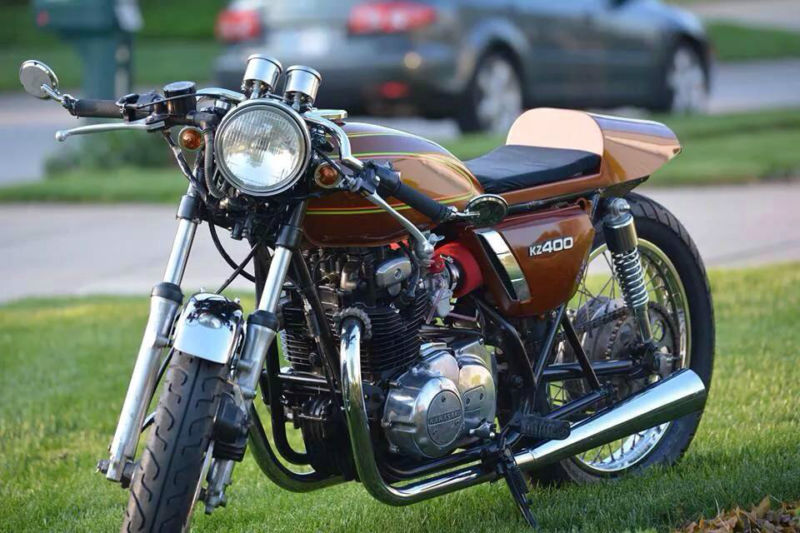 STORY BEHIND THE BIKE
This motorcycle was found in the basement of a grandfather's house in Indiana. As I learned, it had been purchased new by the grandfather and ridden briefly before being stored. When the grandfather passed, the grandson who was in charge of the estate put this up for sale locally. It was snatched up quickly and the new owner got the bike running again, performing some simple maintenance on the bike including restoring the inside of the tank, changing the carbs, fluids and usual make-it-start routines. Once it was up and running, the owner at the time decided to start a cafe project. This usually spells certain doom for most '70's biked because folks make strange bolt-on and sawzall choices, rendering the bikes useless (and worthless) to another.
As happens, the 'cafe' project hit a stall and the owner wanted to sell the bike and move on. I came across the bike for sale and since he hadn't made any design errors that would leave me painted in a corner, we struck a deal and I had the bike shipped to me from Indiana to Reno.
I was happy when it arrived. The bike was clean and as promised. Mechanically it was solid but really needed a good tune and tightening up. All along, this bike was purchased to modify and sell, so I wanted to complete it in a way that would appeal to a broad base of cafe bike fans. The original brown metallic paint, while not my favorite color was in near perfect condition, proving the bike had never really been stored outside. Impressed, sure, but I didn't love the color. I didn't think others would like it either so after having the bike for a few weeks I started some renderings of a new iteration of the bike. The goal was to build something that would embrace what the bike was...with some of its original flavor, but updated for the style of today.
MODIFICATION/RESTORATION:
Converted to a cafe concept a little over two years ago.
Cutting on the bike is minimal, just what was needed to accommodate the new cafe section.
The cafe seat pan and tail section were hand fabricated from steel, not fiberglass (no store-bought shit).
Motor was removed from the bike and painted but the cases have never been split.
Cleaned up wiring and carb vent routing.
Bike was disassembled, wiring cleaned up, fluids changed, brakes checked, valves adjusted, re-jetted and cleaned up.
Rebuilt forks (seals were leaking because of long term storage). Fork tubes powder coated semigloss black.
Wheels and hubs stripped, and powder coated semigloss black.
Hub covers, motor covers, and anything that can be polished were polished up clean and shiny.
New and serviced front and rear disc brakes
Wheels restrung and trued with new stainless spokes and ol'skool twist-wrap wheel weights.
Tank, side covers, headlight, tail section all covered in 3M matte blue, brushed metal, and red vinyl. Changes the color without disturbing the original paint finish. Vinyl work performed by the experts at B&L Automotive Decor in Rancho Cordova, CA.
Custom seat pan and upholstery were fabricated and executed flawlessly by Goodwin & Son in Reno, NV.
Mechanical assembly and tuning performed by MotoSource in Reno, NV.
Final assembly and shakedown complete and ready for new owner.
GENERAL INFO + PARTS LIST:
~2,000 original miles
New clutch, adjusted perfectly
Gears in check...shifts perfectly smooth
Electric + Kickstart work.
Starts easily from cold start, idles perfectly (tuned for 4,000' elevation)
Mikuni VM32 Carbs with aftermarket boots and 2 into 1 throttle cable + UNI filters
Exhaust was drilled out to adjust the sound. Really nice twin-sound.
LED tail light with integrated signals. Running lights and directionals work front and rear.
New clubman bars + vintage Magura grips
Mini speedo & tach with new cables from Dime City Cycles.
New battery
Updated fuse panel installed though most of the stock wiring harness was retained and modified.
Shinko SR712 110/90 18 rear, Shinko SR712 100/90 18 front
Fresh Motul 300v synthetic oil
Runs perfectly on pump gas (though I sometimes put race gas in for no reason other than the smell as it burns)
Original tank is rust free. It has also been creamed for additional rust protection.
Side covers are original and in excellent condition
Clear Nevada title
EXTRAS, ORIGINAL PARTS
For the most part, this bike could be put back to stock if you really wanted to.
Sale includes original gauges, factory 2 into 1 exhaust & mufflers, handlebars, mirrors, carbs, tail light, other stock parts.
Shop manual for KZ400D also included.
Bike is stored on a Battery Tender, in a climate controlled garage year round. I ride the bike to bike-nights from time to time just to keep the juices flowing. Bike has been transported to Portland for The 1 Moto and and tooling around. Bike has not shown to be temperamental. It starts easily and runs great at sea level and higher elevations. Far easier to tune than my 4-carb bikes.
Quirks, perfect imperfections:
Small dent in the front fender, could easily be repaired
Wiring could be made more perfect but everything works as it should.
Small oil seep from the heads if you ride the bike at freeway speeds. Since this motor has never been apart, this could be fixed with a top-end gasket kit.
THE BOTTOM LINE
One of the nicest KZ400's around. This bike has been ridden just over 300 miles since completion.
UPDATE 11/22/2016: Sold to its new owner in san francisco
KEYWORDS: cafe racer cafe bike 70's bikes 70's cafe racers kawasaki kz kz400 kz440 vintage motorcycles