This is a 1962 Cadillac Coupe de Ville 2-door Custom
I owned this beautiful Cadillac Coupe de Ville Custom since 2003. During the time I owned the car, I did a number of custom modifications including paint, custom wheels, airride suspension, and a very high-end audio system. It has a perfect stance and it's built to drive low. My only reason for selling the car is that I drove it so rarely I considered it a shame.
Not a show car or trailer queen. Also NOT A RAT ROD. This is a very well cared for custom car worthy of the recognition it gets. Photos and walk around video will give you a multi-dimensional look at the car. Here are some additional details.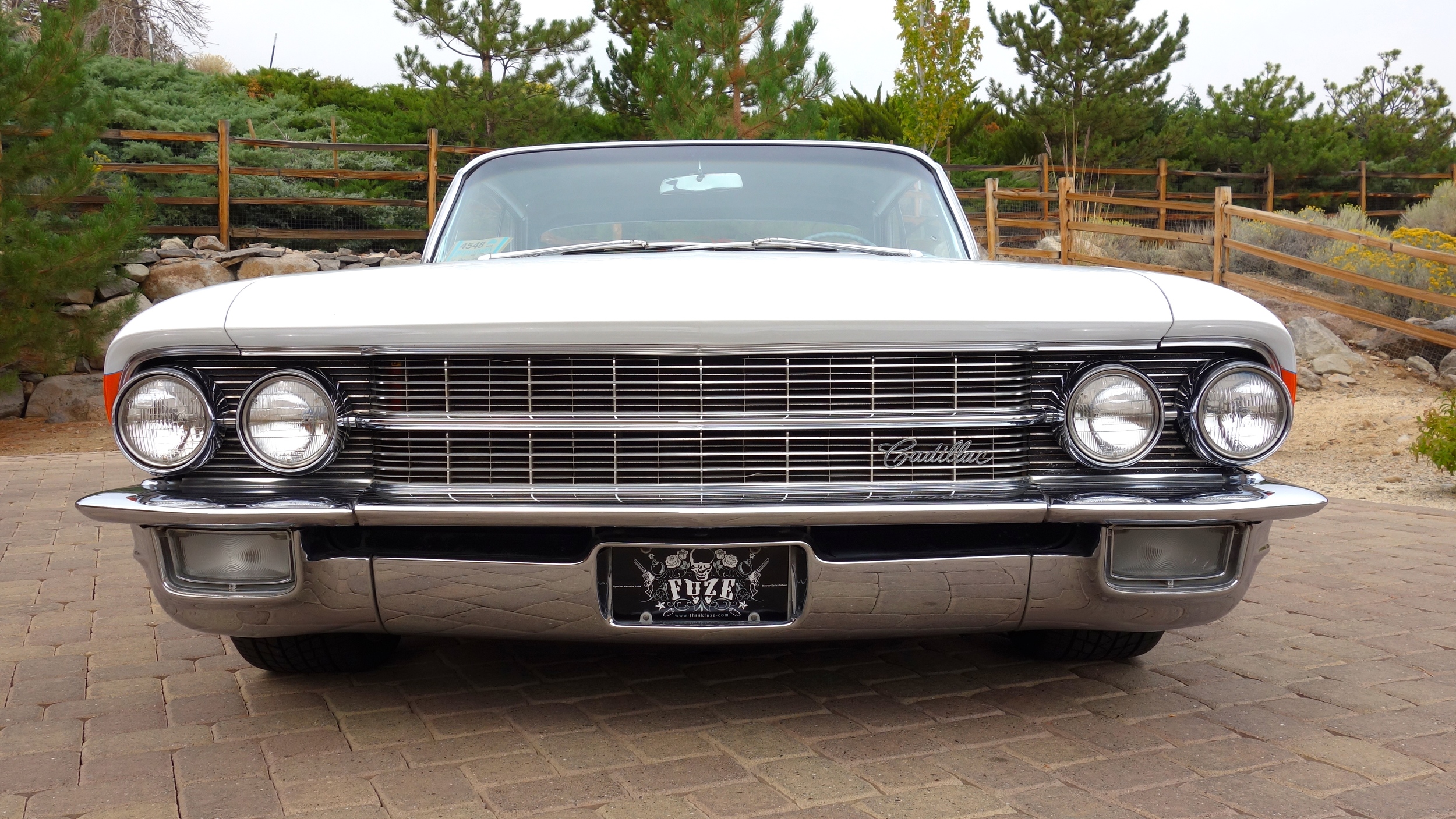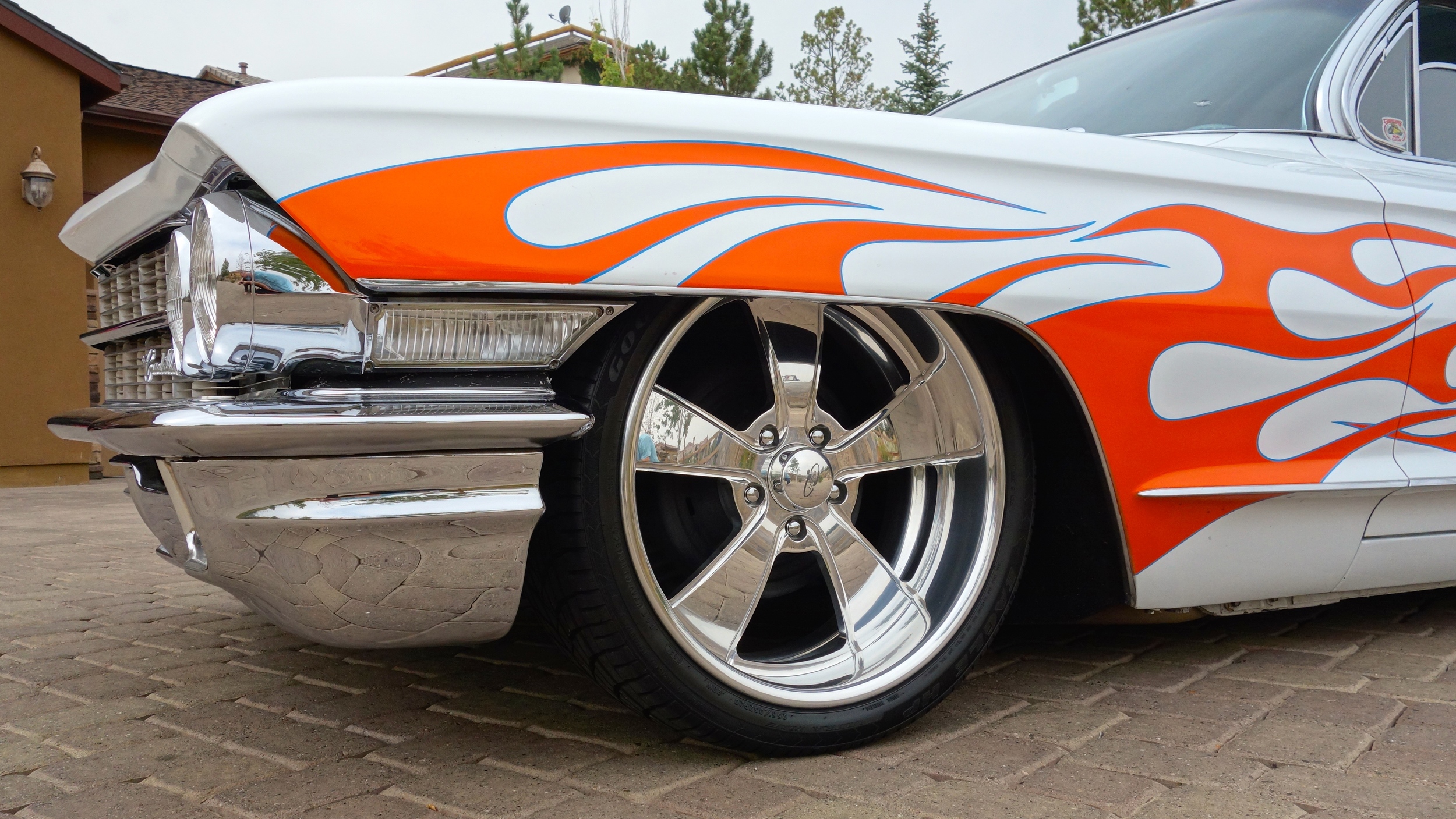 EXTERIOR:
4-way Airride Suspension with dual Viair Pumps and air tank mounted in trunk
20" Intro Wheels with Goodyear tires - wheels were custom made for the car to allow the car to rest on the ground without cutting the wheel wells. Tires are in new condition
Paint is glossy white paint with candy orange flames - no signs of serious rust
Emblems removed
Shaved door handles and locks - doors and trunk open with remote (or hidden buttons)
INTERIOR:
Integrated sound system without cutting up the doors or kick panels - full custom installation integrated into the trunk, rear deck, custom kick panels, no cutting. 4 12" subs, MTX amps, Pioneer Premiere head unit, iPod connector
Original steering wheel
Seats in excellent condition
No cracks in dash
Dash has never been cut
Electric front seat
GENERAL
129,200 miles
Original Cadillac 390 Motor
Original Hydromatic Transmission
12V conversion
Dual Stinger Deep-Cycle batteries to run car + audio and airride
Dual glass packs - exhaust hidden underneath
Power Antenna works
All new brakes installed in 2014 - approximately 200 miles since replacement
All new hoses and belts installed in 2014
I keep all of my vehicles stored on battery chargers, in a climate controlled garage, under custom car covers year round. I start and move the cars every couple weeks to keep the juices flowing. Oil is changed every year just for the heck of it even though we probably only put 100 miles a year on the cars. This car was a regular at Hot August Nights in Reno/Tahoe and it always performed well.
[SOLD for FULL PRICE DECEMBER 2015]
Why this isn't a $40,000+ car?
I believe in honesty when describing vehicles. This could easily be a $40K+ car with repairs or enhancements to the following:
Engine and drivetrain
All original. The engine leaks a little oil, and the transmission pan leaks a little fluid. If I drove it more often, I would have these leaks fixed but since it's only taken out a few times a year, I just add a little fluids before I drive and go. If i was going to keep the car, I would probably rebuild the motor and trans just to bring it all back to 100%. This would be a pretty easy rebuild for someone familiar with old american cars. Engine runs great, starts without trouble. Does NOT smoke. Rev's and runs fine on the freeway. Shifts buttery smooth through all the gears.
Brakes
I had all the brakes done in 2014. No real miles have been put on the car since. That said, even with new brakes, braking is soft. My strong hunch is that there is either an air bubble in the brake lines which could be fixed by bleeding the brakes, or, the brake booster is bad (under $100 part). There really isn't anything else that could cause this. With all this, I still drive the vehicle fine.
Airride
The air ride was done 8 years ago and it still airs up and lifts the car fast. The air system could use a tune up - there are some line leaks that will allow the car to drop from drive height down overnight. This doesn't really affect driving the car but to make it perfect, this could be tightened up. The guys who did the airride are still around in Carson and they are very familiar with the car.
Electrical
I had a high-end alternator built for the car when we converted it from 6v to 12v. Alternator appears to be charging fine. There is a short someplace causing the volt meter to not register. This could probably be traced by any auto shop. Since both batteries charge fine when the car is running, i have to think this is a short and nothing serious.
Heater
A few years ago, we had a heater line pop when we were out driving at Hot august nights. We opted in the moment to bypass the heater core. Again, because this car is only driven in dry and perfect conditions, we never repaired these hoses.
Cosmetic
Paint is in excellent condition. Shines, no dull spots, minimal chips. This is no rat rod, but at the same time, this is not a show finish paint job. Small spider chip in the windshield and a small hole in the headliner (smaller than a quarter). Both have been there 12 years.
Interior
Carpet is in decent shape but could be replaced if you want perfection. Dash, door panels, and seats are in excellent condition as the photos show.
The Bottom Line
The new owner will sort out the issues above and more than double his money on this car. If you are like me and don't care about these things, live with what you don't want to fix and enjoy this 53 year old automobile. This car is perfect price point for someone who wants to get into hot rods without breaking the bank. Also excellent for mechanically inclined folks. They are easy to work on and parts are available. I would've loved to take this car to the next level but I owned this car for over 12 years, I wanted to start a new project.
In spite of these full-disclosure statements above, this is still an excellent car. These 60's caddys are popular and their values are increasing. It is also becoming difficult to find cars with no rust, good paint and interiors. This car has all those things. Take a look at the detailed photos and walk-around video for additional information.
[SOLD] This caddy now lives in its new home in florida
KEYWORDS: 59 60 61 61 63 64 1959 1960 1961 1962 1963 1964 caddy cadillac coupe kustom custom lowrider bagged sled